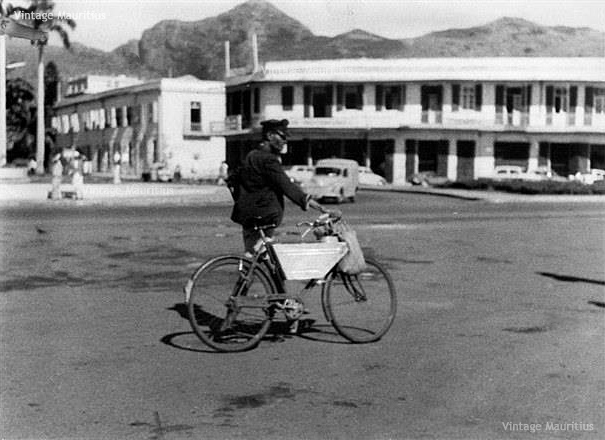 The Traditional Milkman/Milk Seller with his bicycle in front of the harbour at Place D'Armes in Port Louis. This method of selling and distributing milk has completely phased out of the country since the late 1980s, and the interesting part is how the milk was stored in those iron tanks placed on those classic bicycles. At the time, those sellers would go from door to door to distribute the milk, and most of the time it was fresh cow milk.
In those days, many people raised farm animals, namely, cows, goats, hens etc and the cows were mainly raised for their milk and dungs. In order to earn a living, some commercialised the cow milk through local deliveries, either by foot or with the bicycle as observed above. In the morning they would go to different green places to fetch the grass to feed the animals and in the afternoon they would milk the cows, collect the milk and distribute them. Funny indeed how some milk sellers in days where they didn't obtain the required quantity would dilute the milk with water before selling.
In the picture we can certainly locate the place in front of the harbour, also known as the Labourdonnais Square, and all this setup has completely changed today. The Government Printing building at the back is being replaced by the State Bank of Mauritius and the front commercial building has been replaced by the Port Louis Waterfront Building.
Image courtesy of: Nad Wills / Vacoassiens de tous temps